What's New>
in Recreation, Culture and Parks
Aquatics Rehabilitation
Beginning in 2022, the Town of Tillsonburg will begin upgrading its indoor and outdoor aquatic facilities to better meet the changing needs of the community. Make a selection below to learn more about these projects.

We gratefully acknowledge the Province of Ontario and the Government of Canada for their financial assistance on these projects. 
During the spring and summer of 2023, the building at Lake Lisgar Waterpark will be renovated to enhance accessibility, safety and functionality. 
The project is being funded in part by the Government of Canada through the Federal Economic Development Agency for Southern Ontario. Tillsonburg received a $750,000 non-repayable contribution from the Canada Community Revitalization Fund (CCRF).


The Town of Tillsonburg is also investing $450,000 in the project for a total renovation budget of $1.2 million. 


Design and consulting on the project has been awarded to A+Link Architects. Tillsonburg-based PK Construction has been selected as the general contractor.

Learn more about this project
Lake Lisgar Waterpark typically welcomes more than 15,000 guests each summer season. Entry to the facility is through a 3,600-square-foot building.
The building was originally constructed in 1948 when the Kinsmen Pool opened to the public. The last major renovation was in the mid 1990s when the pool was transformed into the Lake Lisgar Waterpark.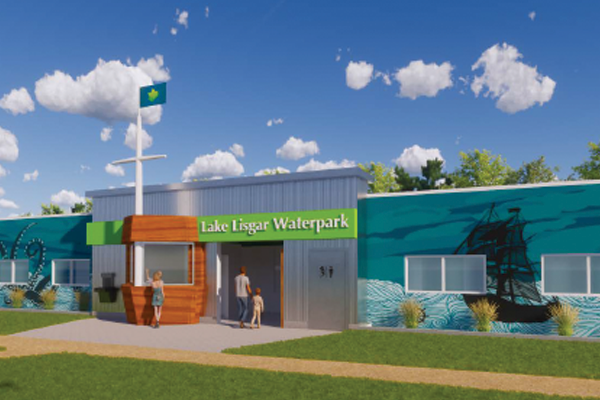 barrier-free family changerooms
improved accessible washrooms and showers
renovated staff/first aid area
new entrance 
masonry work
exterior finishes including a mural
Spring 2023
Funding announcement
Award of tender
Interior demolition 
Exterior improvements
Summer 2023
Interior construction and finishing 
Late Summer/Early Fall 2023
*All dates are tentative and subject to change.

Beginning April 2023, the aquatics wing at the Tillsonburg Community Centre will be closed for major renovations. A variety of upgrades will be made to improve accessibility, energy efficiency and functionality.
Major funding for the project is being provided by the Government of Canada and the Province of Ontario through the Investment in Canadian Infrastructure Program (ICIP). It is the second phase of the Tillsonburg Community Centre Recreation Rehabilitation project announced in July 2021.
The Town of Tillsonburg is also investing in the project. 
Learn more about this project
The indoor aquatic centre at the Tillsonburg Community Centre contains a 25 metre, six lane rectangular lap pool with competition starting blocks, male and female change rooms (shared with the fitness centre), a lifeguard office, storage room, and a separated viewing gallery. 
While the aquatic centre has served the community and surrounding region well for more than 50 years, it lacks modern amenities and requires upgrades to meet current accessibility standards.
universal changerooms
barrier-free washrooms and showers
new ramp entry to pool
new viewing area
new entrance and reception area
new meeting room
new elevator
new accessible parking
Spring 2023
Award of tender
Interior demolition 
Summer 2023 - Spring 2024
Exterior construction
Interior construction and finishing 
Summer 2024

*All dates are tentative and subject to change at any time.
Fall 2023 Update

Site Prep & Hoarding walls erected
Demolition has been completed
Abatement has been done
Installation of new water and sanitary lines
Completion of Foundation walls for the addition
Elevator pit installed
Pool ramp prep work
For more project updates, visit our News and Notices page.